New Compact Brake "CB" Series of Suppressors ALL NEWS
Posted By: Zak Smith on May 7, 2014
You asked for it, so we built it!
We are pleased to announce our new Compact Brake ("CB") and a series of .223 and .30 caliber suppressors that utilize it.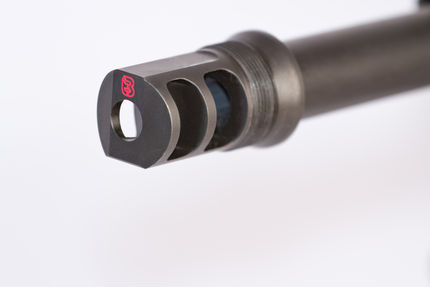 Even though the mount on the old 30BA was rock solid, everyone knew it was too big and ugly a brake for most .223 and .30 caliber rifles. You asked for a smaller brake, and now we've delivered.
The new CB-series brake features a four-port, two-chamber design that is up to 40% more efficient than the old 30BA brake when used alone. We were able to reduce the maximum outer diameter of the shoulder surface while increasing the overall conical shoulder area to increase lockup strength. This smaller brake looks great on AR pattern rifles and 6.5mm, 7mm, and .30 caliber precision rifles.
We have four "CB" series suppressors for this new brake in production immediately:
30CB9 .30 caliber, 9-inch titanium precision rifle suppressor. MSRP $1195 (replaces the 30BA)
30CB7 .30 caliber, 7-inch titanium compact precision rifle suppressor. MSRP $1095 (replaces the 30BAS)
30CB5 .30 caliber, 5-inch titanium super compact, subsonic rifle moderator. MSRP $845 (the CB series version of the 30PSS)
223CB .223 caliber, 7-inch sporting/precision rifle suppressor. MSRP $995 (the CB version of the 223P-2)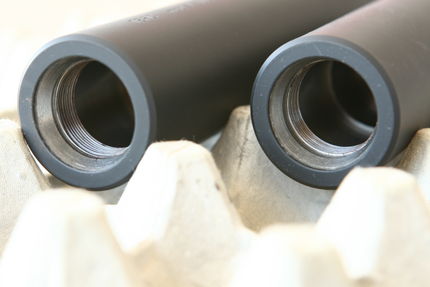 This new 30CB series replaces the 30BA series. The 30BA and 30BAS are being phased out. We will continue to support 30BA-series customers. 30BA brakes will remain for sale. 30BA and 30BAS suppressors may still be ordered on a special-order basis for customers already invested in the 30BA system.
A CB series flash hider in .223 and .30 calibers versions will be available for ordering 6-8 weeks following this announcement. A "BA to CB" series adapter to permit use of a BA series suppressor on the new CB brake is in the works.
In addition, we recently "quietly" released a revision to the 223P-1 called the 223P-2. This revision provides incremental improvements to suppression, strength, and durability of the 223P line. The new 223CB is the CB-series version of the 223P-2.
CB series suppressors, brakes, and external thread protectors may be ordered immediately and will be available for shipment following normal production and ATF Form delays. Please contact your local TBAC dealer to order!
Complete specs on the new CB line of suppressors may be found via our Products page, TBAC PRODUCTS
If you have questions about these new products, or support of old products, please email us or give us a call!
thanks,
The TBAC Crew