Thunder Beast Sound Suppressors - Built For Accuracy, By Shooters - Tactical, Competition, Sporting

Thunder Beast Sound Suppressors - Ideal for Long-Range Hunting

Thunder Beast Arms Corporation - Supporter of Competitive Shooting Sports

Thunder Beast Sound Suppressors - Forged in Competition - Reliable Accuracy
Posted By: Zak Smith on February 20, 2015
Cal Zant, over at the Precision Rifle Blog, has put together a really good overview of the Ultra series which we released at SHOT Show. Click Here to go to the Precision Rifle Blog and read, "Better, Smaller, Lighter: The New ThunderBeast Suppressors"
ThunderBeast has been the most popular rifle suppressor among the top 50 shooters in the Precision Rifle Series for the past 3 years in a row (see the data). In fact, of the shooters who suppressed their rifles, 1 in 3 chose a ThunderBeast can this past year. Thunder Beast Arms Corporation (TBAC) was founded and is ran by practical/tactical rifle competitors obsessed with long-range accuracy. Many believe they make the best precision rifle suppressors money can buy.
Posted By: Zak Smith on January 14, 2015
We built our reputation on making suppressors that were ideal for precision and long-range rifle shooting. As shooters, we only build products that we would take to the field or to competition. The 30P-1, 30BA, and 30 CB series have set the standard for precision rifle suppressor performance. They are a hard act to follow.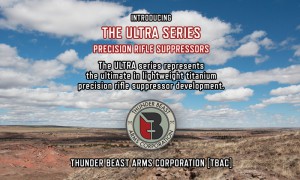 We are pleased to announce our new ULTRA Series suppressors.
What is the ULTRA Series? Simple: we took everything great about the 30P-1 and 30CB9 and then made them lighter, quieter, and stronger.
The ULTRA Series now represents the lightest 9-inch, 7-inch, and 5-inch .30 caliber suppressors on the market. The ULTRA 9 weighs 11.9 ounces. The ULTRA 7 weighs 9.7 ounces. And the ULTRA 5 weighs 7.6 ounces.
That's not all. While we were at it, we improved the suppression performance to class-leading levels. The ULTRA 9 and 7 are 4-5 dB quieter than the 30CB9 and 30CB7 (30P-1 and 30PS). The ULTRA 5 is 7-8 dB quieter than the 30CB5/30PSS. The new ULTRA 7 is quieter than the old 30P-1/30CB9.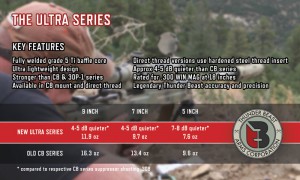 They are available in either our Compact Brake (CB) "Thread Over Muzzle Brake" (TOMB) mount or in a direct thread mount. The CB mount and direct thread mount have equivalent accuracy and repeatability. The .30 caliber ULTRA series suppressors also have the flexibility to be changed from direct thread to CB mount and vice versa via a simple factory service operation, in case your needs change.
THE ULTRA 7 (FDE Finish)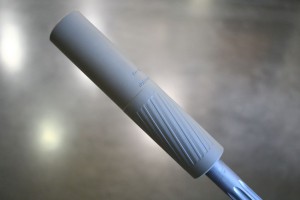 Please refer to our web site for more information and specifications:
ULTRA 9
ULTRA 7
ULTRA 5
The ULTRA Series will be available to order starting January 20th, 2015.
During the week of Jan 19-23rd, we will be at the SHOT Show and generally unavailable to take phone calls. If you are at SHOT, please stop by and say hello; we will be at booth 8407.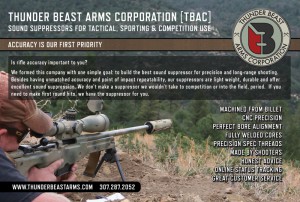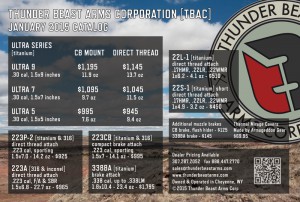 If you have questions about these new products, or support of old products, please email us or give us a call!
thanks,
The TBAC Crew
Posted By: Zak Smith on January 9, 2015
Here's a hint at what we'll be showing off at the 2015 SHOT Show in a couple weeks.
[ CLICK HERE FOR OLDER NEWS STORIES ]